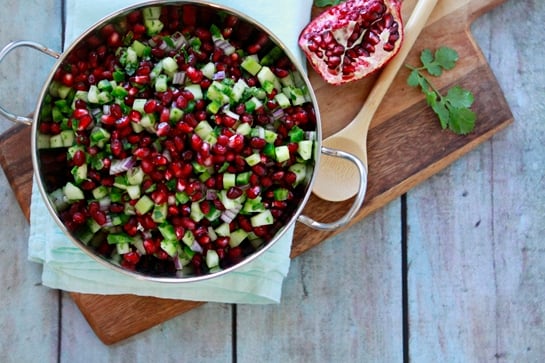 Tacos and pomegranates are delicious – why not put them together and make an awesome meal that your family will love? Read on for the recipe, from DealDash.
I have always been a huge fan of tacos, but I had never even tried a pomegranate until I was 30 years old! It was definitely love at first taste, though, and I have been buying them regularly ever since. I had originally thought as a pomegranate as a stand-alone food, something to snack on like other fresh fruits like grapes. After doing a little research, though, it turns out that pomegranates are delightful in many different recipes of varying styles and tastes. Here is just one recipe for chicken tacos and pomegranate salsa, from DealDash.
Let's Get Cooking!
Ingredients:
1 tsp. ground cumin
½ tsp. garlic powder
¼ tsp. chipotle chili powder
salt and pepper (to taste)
1 tbsp. olive oil
2 large boneless, skinless chicken breasts
2 scallions
1 large avocado
¼ c. pomegranate seeds
1 tbsp. fresh lime juice
½ c. fresh cilantro leaves
8 small flour tortillas
sour cream
Directions:
Pre-heat oven to 425 degrees. Line a rimmed baking sheet with foil.
In a bowl, combine the cumin, garlic, chili powders, and 1/2 teaspoon salt.
Heat the oil in a medium skillet over medium heat. Season the chicken with the spice mixture you just made in the bowl and cook until browned, 2 to 3 minutes per side.
Transfer the chicken to the baking sheet and roast until cooked through, approximately 8 minutes, or a few minutes longer if they are thick.
While the chicken is in the oven, in a medium bowl, gently toss together the scallions, avocado, pomegranate seeds, lime juice, and 1/4 teaspoon each salt and pepper, lastly, fold in the cilantro.
Slice the chicken into 1/4-inch-thick pieces. Fill the tortillas with the chicken and top with the pomegranate salsa. Serve with sour cream on the side.
It's Time to Eat!
Doesn't that sound delicious? If you happen to live in an area where it's uncommon to see pomegranates in the supermarket fruits and vegetable section, then check the refrigerated section as well. They often have pomegranate seeds that have already been removed from the rind for sale. They are more expensive this way, but they are still fresh and delicious and will work well in this recipe.
Thanks for Reading
Thanks so much for reading this DealDash recipe. Don't forget to check back every day for new articles here are well as on our sister blog, DealDash Tips. If you have any requests for specific articles, please feel free to leave a comment below.
Try this delicious recipe, then check DealDash for kitchen items. DealDash has everything. Visit DealDash now to see how much you can save. Good luck and happy bidding everyone!
This sponsored DealDash blog article was written by Dawn E, a mother of 3 who loves DealDash. Dawn was compensated for writing this blog article. Read even more at DealDashBlog.com, DealDashTips.com, or on her own blog, DawnBlogtopus.