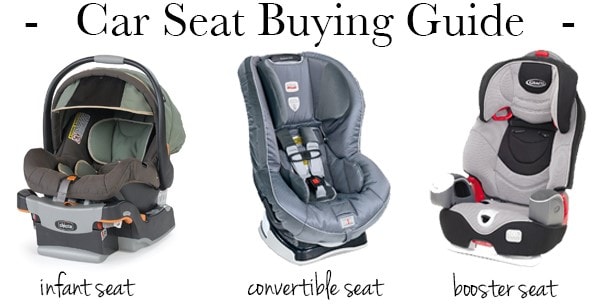 Choosing the proper car seat for your child or grandchild is very important. Let's look at the different types of car seats available.
Riding in a car seat is an absolute must for all babies, toddlers, and little kids in the US. A child needs to be in some kind of car seat or booster seat until they are at least 8 years old, and have reached a height of 4'9. There are a few different types and styles of car seats available according to the child's age and development. Here is a quick guide to choosing the proper car seat to keep your child safe.
Infant car seat. Also commonly known as the "baby bucket". These car seats are amazing when you have a small baby. The bucket fits into a base that is connected to your car, and can be removed and carried around. If you only want to buy one of these car seats you just have to have a second base if you want to transfer the baby to your second car. Be warned, though, the weight of a baby plus the weight of the baby bucket can get very heavy. Your baby bucket should always be rear-facing in the car. Check your individual baby bucket for weight limits. My baby bucket has a weight limit of 25 pounds, but yours might be different. Once your child exceeds the height and weight limit of their baby bucket it's time to purchase a convertible car seat with a higher weight limit.
Convertible car seat. This is the car seat that your child will be sitting in for years to come. Make sure that you get a comfortable one that has great safety ratings. The American Academy of Pediatrics advises parents to keep toddlers in rear-facing car seats until age two, or until they exceed the height or weight limit for the car seat, which can be found on the back of the seat. Many people choose to flip the seat forward facing around the child's first birthday, but try to hold off until their second birthday, for safety. After the after the age of two, feel free to flip that seat around so your child is forward-facing. Your child can stay in this seat as long as they like, until they hit the weight limit. Most convertible seats have a weight limit of 35 or 45 pounds. It is printed on the seat, be sure to check.
Booster seat. Many convertible car seats can convert into booster seats. However, if yours doesn't have this feature, you can get a booster seat such as the one pictured above. Your child needs to stay in the booster seat until they are least 8 years old, and have reached a height of 4'9.
I hope that you found this article helpful in choosing a car seat. DealDash has car seats and booster seats available for auction, as well as many other baby and child products. Visit DealDash and see how much you can save. Good luck and happy bidding everyone!