Since you're a fan of DealDash, you probably like to save money. Here are some fun things you can make for your kids or grandkids to have some fun this summer.
Playdough – Playdough is super simple to make, and kids can have hours of fun using it. My daughter begs to go outside on the deck every day and play with her playdough. Here's the recipe:
2 cups flour
2 cups warm water
1 cup salt
2 Tablespoons vegetable oil
1 Tablespoon cream of tartar (optional for improved elasticity)
food coloring (to your desired color)
Instructions:
Add the water, salt and food coloring first. Heat and stir while the salt dissolves, then add the flour, oil and cream of tartar and continue to stir for about 5 minutes. Turn off the stove and let sit for another 5 minutes or so. Then add your coloring. All done!
Bubbles – Bubble solution is inexpensive at your local store, but it can be even cheaper to make at home, AND you get the added benefit of the fun of making it as well.
Ingredients:
1 Cup Liquid dish soap (Joy or Dawn brands work best. Try to find one that doesn't say 'Ultra')
6 Cups Distilled water (tap water is okay, but distilled water makes the best bubbles)
1 Tbs Glycerin or 1/4 Cup light corn syrup
Clean container with lid
Directions:
Add water into container, then pour dish soap into the water and slowly stir it until the soap is mixed in. Try not to let foam or bubbles form while you stir.
Add glycerin or corn syrup and add it to the container. Stir the solution until it is mixed together.
You can use the solution right away, but to make even better bubbles, put the lid on the container and let your super bubble solution sit overnight. All done!
Kid's Tent – If your kids want to have a camp out in the back yard, or if they just want a private and shady place to play during the hot summer day then make them a play tent! It's easy and your kids will be impressed.
Ingredients:
Hula hoop
Shower curtain
Shower curtain rings
String/rope
Branch to hang it on
Directions: Using the shower curtain rings attach the shower curtain to the hula hoop. Tie 4 lengths of string equidistant around the hula hoop. Hang on branch. All done!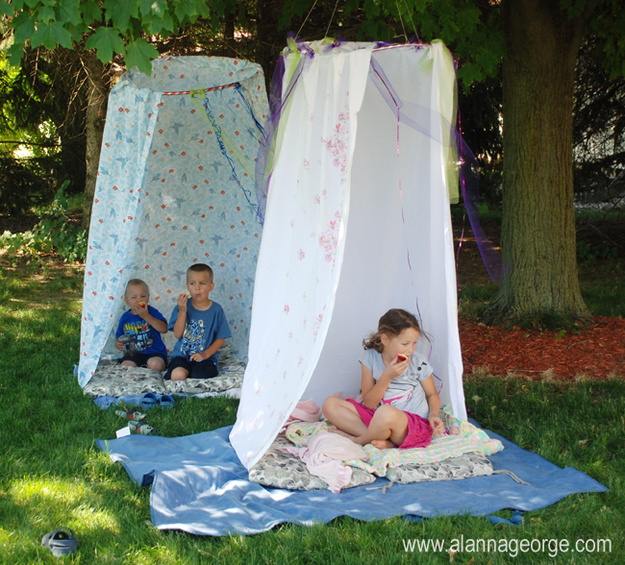 Now that you've saved so much money on outdoor activities for your kids, how about heading on over to DealDash and bidding on some toys that they can use inside when it's raining out? DealDash has lots of fun things for kids, just check out the Hobbies, Toys, Outdoors, and Games category at this link here and see how much you can save! Good luck and happy bidding everyone!