As popular as pumpkin carving is, there are quite a few situations where carving isn't practical. Here are some fun and creative no-carve, no-mess pumpkins.
Carving pumpkins is always fun, but there are many situations where pumpkin carving is just too messy and impractical. Pumpkin decorating can be just as creative and fun as carving, and many designs can be done much more quickly than their carved counterparts.
Brad pumpkin. No, we didn't name the pumpkin Brad…All of those little colorful circular items that are decorating the pumpkin above are brads from scrapbooking. You are probably more familiar with the plain gold or silver brads, but for maximum pumpkin decorating, go for the colorful ones. You can get them at any craft store that has scrapbooking supplies. Make a random design, a geometric design, or even a face design with the brads. They are made out of metal, you can just stick them right into the pumpkin's skin. Sorry, Brad!
Cupcake pumpkin. The cupcake pumpkin is super-easy to make. If you're lucky you might be able to find a pumpkin that is more brown than orange, but if not, don't despair! Simply paint the bottom half of the pumpkin with brown craft paint, and the top half of the pumpkin with the frosting color of your choice – pink, white, or even chocolate-brown. After the frosting color has dried, paint on multi-colored sprinkles. Please don't use your pumpkin for any food-related purposes after you have painted it.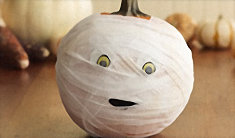 Mummy pumpkin. Wrap your pumpkin up with gauze, and then paint over it with Mod Podge. If you don't have Mod Podge simply use a mixture of 50/50 Elmer's Glue and water. Stick on a pair of googly eyes and you're set! Feel free to draw on a mouth with a Sharpie or cut and glue one out of construction paper.
Emoji pumpkins. These are some of the easiest pumpkins to make. Paint your pumpkins a flat yellow color. After they dry you can either paint on the emoji faces, or cut and glue cardboard emoji faces as seen in the picture above. Either way, they are cute, current, and will be a hit with the trick or treaters.
I hope that you found these no-carve pumpkin ideas as fun as I did! DealDash enjoys all of the holidays and always has special bid prices on these special days. Just click this link right here and you can visit DealDash. Good luck and happy bidding everyone!