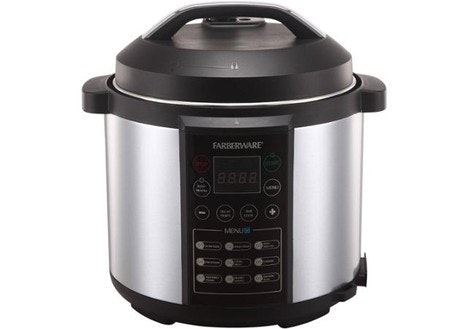 Electric pressure cookers are the hottest thing in cooking right now. Here are some DealDash quick tips on using an electric pressure cooker.
First off, if you love to read cooking magazines or blogs, then you know that electric pressure cookers are popular these days. You don't have to order one from an infomercial or spend a lot of money at a kitchen specialty store – DealDash has them! Next, just click this link and you can check them out. This new breed of pressure cooker is easy and safe to use. Read on for more information from DealDash.
Putting it Together
The instant pressure cooker has a few different pieces. There should be the outer pot with the setting buttons, and inner pot where you place the food, a lid and an "O" ring that seals it, a steam valve, and a condensation collection cup. These pieces should be put together for the most part, but you might have to make sure that the "O" ring is in its proper place, and the condensation collection cup is clipped to the side. The "O" ring is very important, so please don't use your electric pressure cooker if it's damaged.
Be sure to put everything together first, before you begin to prepare your meat to put in the pot. If you put things together first and discover that you're missing a piece it won't be as much of a hassle.
What Are the Cooking Steps?
Using the electric pressure cooker is amazing – you can cook frozen food in less than an hour. Also, this is done easily and safely. Here are the basic steps to cooking something in the pressure cooker.
First, add a cup of water or broth to the inner cooking pot
Next, add your frozen meat and vegetables
Don't forget your seasoning
Then close and seal the lid
Select the correct time for the type of meat that you are cooking
Hit start and listen for the beep to signal that it's done
After it's done, either let the steam release on its own or use the steam valve to let it out yourself. Please use a long-handled wooden spoon to release the steam, never use your hand or a regular short-handled dining spoon.
Thanks for Reading
These tips will help you be prepared when you first use your electric pressure cooker. If you take the time to take good care of your electric pressure cooker you can enjoy using it for years to come. Also, it is definitely worth the investment if you are looking for a  great way to prepare foods quickly and deliciously.
Finally, thanks for reading the newest blog article. I hope that you found this DealDash article on using an electric pressure cooker interesting. We have a new article here on DealDash Reviewed every single day. It could be cooking, family, crafting, health, or lifestyle. Check back every day to see what the article of the day is on DealDash Reviewed.
If you need any kitchen items DealDash can help you. Check out the DealDash Kitchen and Dining Category. Also, DealDash has lots of home items. Have fun on DealDash, and happy bidding everyone!
This sponsored DealDash blog article was written by Dawn E, a mother of 3 who loves DealDash. Dawn was compensated for writing this article. Read even more at DealDashBlog.com, DealDashTips.com, or on her own blog, DawnBlogtopus.