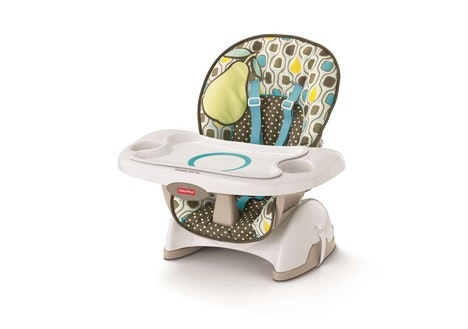 A high chair is something that I always advise new parents to purchase. Here are some tips from DealDash to get the best one for your child.
When you feel like your baby is ready to start joining you at the table for meals you need to look into purchasing a high chair for them. So what do you need to look for when you are in the market for a high chair? Read on for these tips from DealDash.
Check for Safety Features
You are going to need to look for a high chair that has proper safety features. Your baby will not always be happy to be sitting in the high chair so you need to know that they are safe while they are sitting in it. So when you are purchasing a high chair you need to make sure that it has a safety belt on it so your baby will be secure. You also need to make sure that it has a stable base so that it doesn't tip over when your baby is sitting in it.
How Comfy Will Baby Be?
The level of comfort in a high chair is also something that you need to be concerned about. You have to be certain that your child will be comfortable sitting in the high chair so be sure that the high chair comes with a padded cover. Most covers are machine washable so you do not have to worry about the mess.  
Is it Easy to Clean?
How easy the chair is to clean in another factor in choosing the right high chair. If possible you will want to look for a chair with removable covers so that clean-up is simple. This way you don't have to worry about spending a long time cleaning up after your child and you can focus more on getting them clean.
Thanks for Reading
Buying a high chair is a must-have for those with young children. You will have a secure place to feed them and you do not have to worry about feeding them separate from the rest of the family. So keep that in mind when you're looking for a high chair for your baby.
Thanks so much for reading this DealDash article on choosing a  baby high chair. Don't forget to check back every day for new articles here. Also read our sister blog, DealDash Tips. We love to hear from our readers, just leave a comment down below.
Do you need kid and baby items? Go check DealDash for high chairs and strollers. DealDash has all of the baby things that you need. Visit DealDash now to see how much you can save. Have a great time on DealDash and happy bidding everyone! 
 This sponsored DealDash blog article was written by Dawn E, a mother of 3 who loves DealDash. Dawn was compensated for writing this article. This blog is written by real DealDash customers. The opinions and advice shared here represent our customers' views and not those of the company. Read even more on DealDashTips.com, or on her own blog, DawnBlogtopus.