Would you like your home to smell amazing, but you have pets or little kids that make it smell not so great? Are those pets and children also the reason why you don't want to use too many chemicals in your home? Try making your own room spray.
Making your own room spray for your home is really very simple. You can use many different essential oils to make an almost endless variety of scents. I'll give you a basic recipe to get started, you only need a few things and you will be on your way to a great smelling home with no harsh and irritating chemicals.
Materials:
Small spray bottle – they have these in the travel section at Target and many other stores. Glass or plastic is fine.
Witch hazel. You can also use vodka, but why waste vodka?
Distilled water
Mason jar or other similar jar with a lid
Small funnel
Essential oil(s) of your choice
Directions:
Add 2 ounces of witch hazel to your mason jar.
Add your essential oil(s) to the witch hazel. Put 20 drops of any of your oils.
Shake, shake, shake!
Using your tiny funnel, pour the mixture into your spray bottle. Add an additional 2 ounces of distilled water.
Add a label outlining how many drops of which essentials oils are inside in case you would like to make the same mixture again.
Spray, then breathe in the nice fresh scent of your home.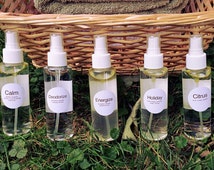 If you are having trouble figuring out which essential oils to use in your room spray, here are a few ideas:
Citrus & Mint –
8 drops peppermint essential oil
12 drops wild orange essential oil
Freshening and Deodorizing-
4 drops tea tree oil
8 drops lemon essential oil
8 drops eucalyptus essential oil
Relaxing in Bed-
8 drops lavender
12 drops vanilla
If you aren't sure you are going to like the scents that you are mixing up or not, just add 1 drop of each of the oils at first, and if you aren't crazy about the scent that it makes when it's mixed together then just finish off the 20 drops with the scent that you like better. It won't be as exciting a mixture, but it will avoid having to throw out your mixture, as 1 drop of an oil with 19 drops of another oil will smell almost 100% like the 19 drops, with just the slightest hint of the 1 drop's scent.
I hope that this article has gotten you thinking about what sorts of yummy scents that you can make into room sprays for your home. If you haven't yet purchased any essential oils, they are available at a great price from both Target and Wal*Mart. Conveniently, DealDash offers gift cards for both Target and Wal*Mart for auction. Go ahead and check out DealDash's Gift Card category for Target and Wal*Mart gift cards. Good luck and happy bidding everyone!