Now is a great time to start planning your next vacation. According to the U.S. News, San Diego, California is number 9 on the list of the best places in the USA to visit.
There are a few things to do when deciding to plan your next vacation, and picking a destination is the first step! San Diego is a wonderful city that has a rich history as well as a current appeal. Let's take a look at what makes San Diego such a great place to visit on your next vacation.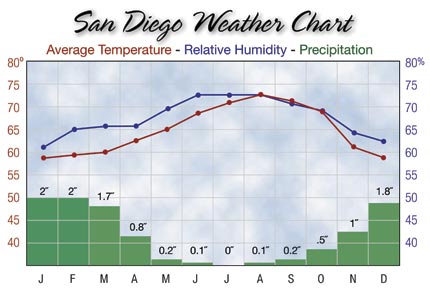 The first thing that people tend to mention when speaking on San Diego is the weather. Sunny and warm is par for the course in San Diego. As you can see in the chart above, San Diego temperatures rarely dip below 60 or rise above 75. In my mind, that is just about as perfect as you can get. I visited San Diego a few years ago in February, and the weather was sunny and in the mid-60s for the entire week. It was a little slice of perfection compared to the New England weather that I have become accustomed to.
Besides the weather, people love to vacation in San Diego for the cuisine. San Diego has everything, from food trucks to fine dining and everything in-between. Since San Diego is in such close proximity to Mexico there are countless amazing Mexican restaurants that you can try. If Mexican cuisine isn't your thing, just look to the East – the Pacific Ocean is right there, with all of it's fishy bounty. If you're into beer, San Diego boasts over 70 breweries! You could fill your vacation with brewery tours, if you so chose.
Lastly, I would be remiss if I didn't mention any fun kid's activities! San Diego has two of my favorite attractions – Sea World and the San Diego Zoo! Those are two "must see" items on my list if you have kids, and on my "should see" list if you don't have kids!
I hope that you found this article informative. If you're planning a trip you should definitely check out the luggage on DealDash. DealDash has the latest styles of luggage in all sizes. Just click this link right here to go browse the auctions. Good luck and happy bidding everyone!