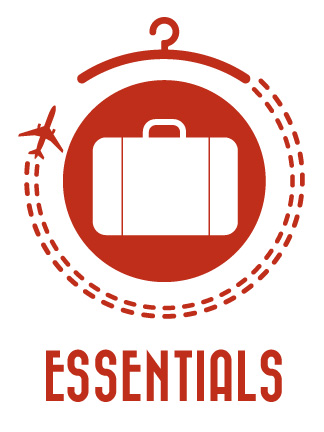 Are you planning a trip for the holidays? Don't forget to pack these holiday travel essentials.
This is the season for family get-togethers, and I don't know about you, but I always seem to forget to pack something that I really need! I can't even tell you how many times that I've had a make a quick trip to the big box store and buy a duplicate of an items that I already have at home. It can start to get quite costly, depending on how often that you travel. Here is a quick guide to the essentials that you might need on your next trip.
The first thing that you are going to need to bring on your holiday trip to visit family is a good attitude! Between traffic (or long flights), bad weather, and stress sometimes we aren't as enthusiastic about visiting for the holidays as we should be feeling. Remember, this is your family, you decided to come visit because you love them – try to have a good attitude.
Aside from your normal toiletries that you would regularly bring on a trip, is there any special look that you might want to wear on the holiday? Even ladies that don't normally wear a lot of make-up sometimes like to glam it up on the holidays. Go ahead girls, throw in that glitter eye shadow and those fake lashes!
In the same vein, don't forget to pack something special to wear on the holiday, or for any nights out to neighborhood parties. If you don't usually dress up, why not make a special effort for the holiday? Don't forget to pack shoes to go with your outfit as well as anything else you might need like pantyhose or a strapless bra.
If you're travelling now and don't plan on coming back for Christmas be sure to pack any presents that you were planning on gifting. Why pay shipping later if you can bring them with you now and leave them for your family to open on Christmas?
Lastly, don't forget to bring your laptop so you can still participate in DealDash auctions! If you don't have a laptop you can always download the DealDash app for your Android or iPhone. You can buy bids, bookmark auctions so you can come back to them later, set or remove BidBuddies, and of course bid on auctions! Winning an auction on the DealDash app is easy and fun.
Here is the Android version on Google Play –https://play.google.com/store/apps/details?id=com.dealdash&hl=en
Here is the iOS version in the App store –https://itunes.apple.com/us/app/dealdash/id965782383?mt=8
I hope that you found this article helpful. If you need some new luggage be sure to check out DealDash. DealDash has many different types and styles of luggage to choose from. Always check DealDash first when you need something. Click this link to visit DealDash. Good luck and happy bidding everyone!